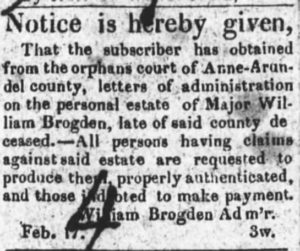 Like much of the legal structure in Maryland, the history of the orphans court begins in England. The Orphans Court owes its name, confusing to the 21st century mind, to the fact that the children of deceased male landowners were considered orphans when the father died. They were the persons for whom the "orphans court" legal system was developed, to protect their inheritance interests.
The Orphans Court was unknown in provincial Maryland and was first created in Maryland under the Acts of 1777. They were to be established in each county and served by a Register of Wills. The initial act established that in contested cases, the parties were entitled to file their actions in courts of general jurisdiction–the then general court, the chancery court, or the county court. In 1851, the judges of the Orphans Court became constitutional judges. Present constitutional recognition of the Orphans Court can be found in Maryland Constitution Article IV, §§ 40.
Judges of the Orphans Courts exercise limited jurisdiction. The Court is charged by Estates and Trusts Article § 2-102 with conducting judicial probate, directing the conduct of personal representatives, and passing orders necessary for the administration of a decedent's estate.